APPLICATION DESCRIPTION
Introduction
Learn more about applications using E Ink.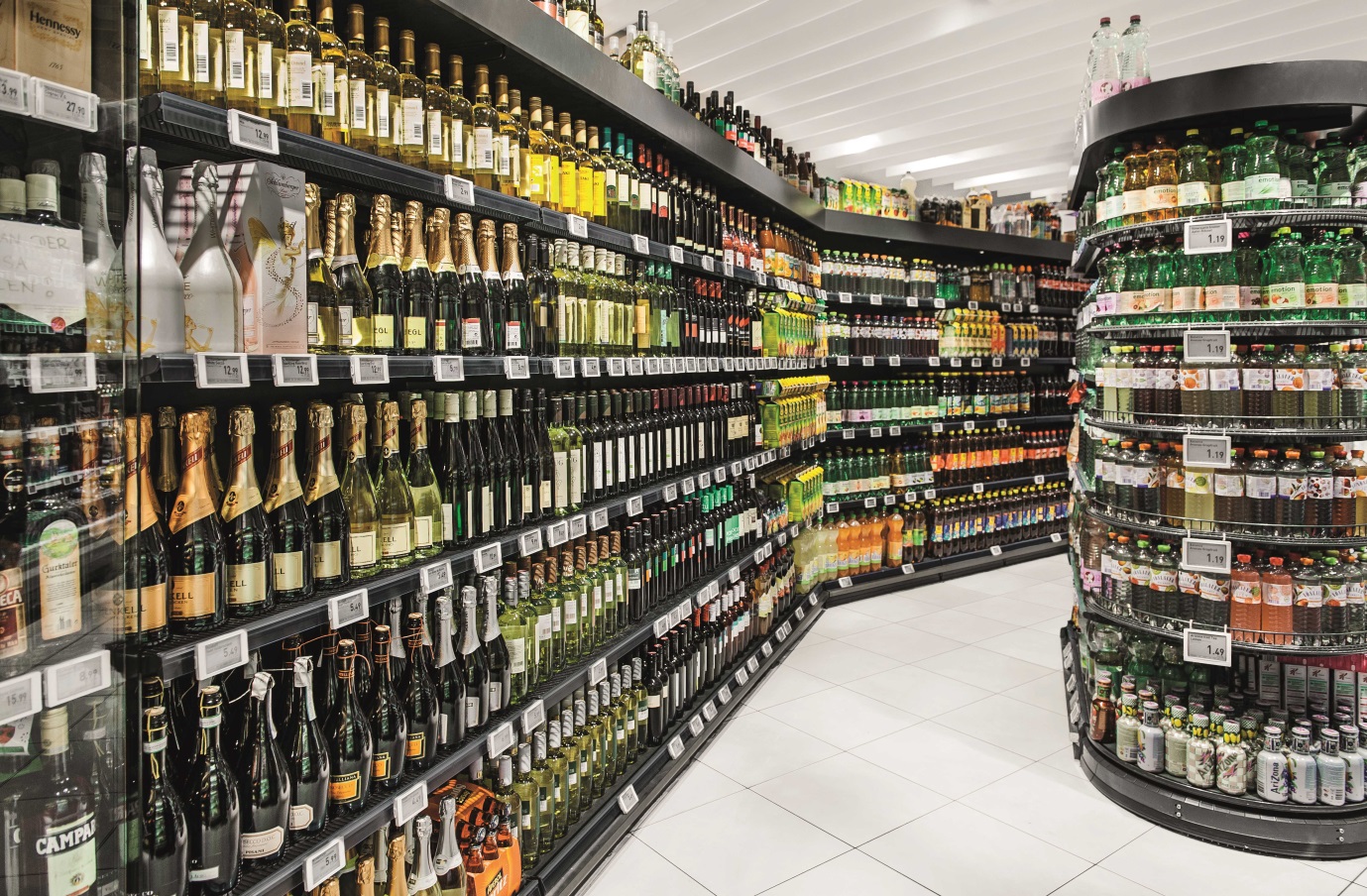 E Ink's Display technology is the perfect fit for Electronic Shelf Labels and Retail Signage Displays, offering extremely low power consumption, very wide viewing angles, mono and 3-and 4-color options, and paper-like readability under all store lighting conditions.
Electronic Shelf Labels (ESL) offer Retailers the ability to wirelessly update content on shelving signage quickly and efficiently, without the need to print paper tags and deploy store representatives to change them manually.
In addition to reducing the overhead to support frequent price changes, ESL also offers Retailers the ability to update pricing as often as they need (dynamic pricing), while at the same time reducing pricing errors to customers. Retailers can offer in-store promotional pricing that matches their on-line channels, respond to their customer traffic patterns in real-time, and reduce wastage through seamless promotional pricing changes for perishable goods. ESL can not only be used to update pricing but also to display promotions, competitor pricing, social reviews, product ingredients, source of origin, automated currency conversion, inventory levels, and much more.
E Ink based ESL & Retail Signage Displays offers many benefits over traditional paper-based or LCD based displays:
Benefits
• Extremely low power consumption allowing up to 5-year battery lifetimes
• Very wide viewing angles allowing ESL tags on the very top and bottom shelves to be easily readable by customers
• Superior optical performance even under strong store lighting conditions
• E Ink Aurora™ ESL Tags support -25C operation for use in Chillers and Freezers
• E Ink Spectra™ 3000 3-color ESL tags support highlight Red and Highlight Yellow colors allowing Retails to easily differentiate promotion or sale items
• E Ink Spectra™ 3100 4-color ESL tags support black, white, red and yellow in one tag, giving retailers more flexibility in their ESL and in store signage deployments.
Segmented ESL Tags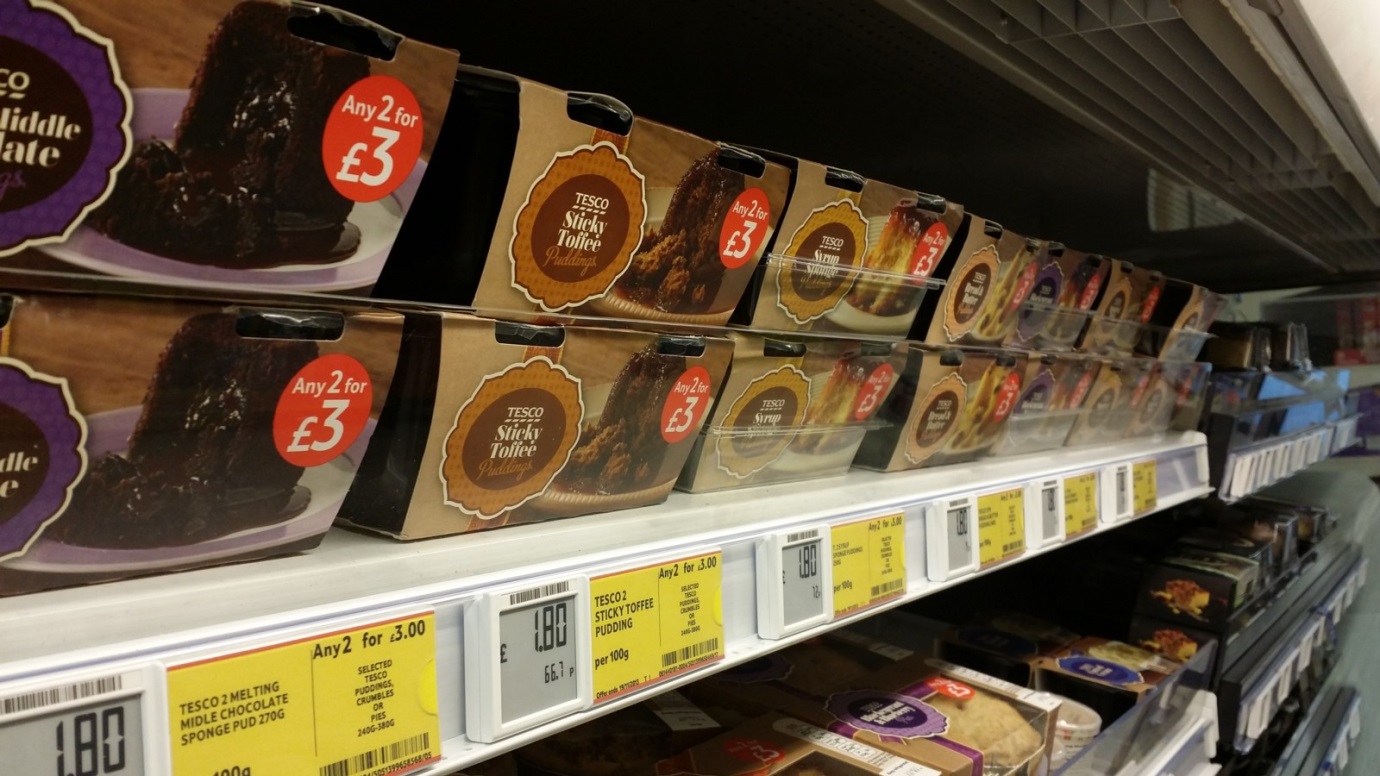 E Ink technology can be used to build simple Segmented ESL Tags allowing Retailers to dynamically change the pricing of their products.
Black/White Graphic ESL Tags and Retail Signage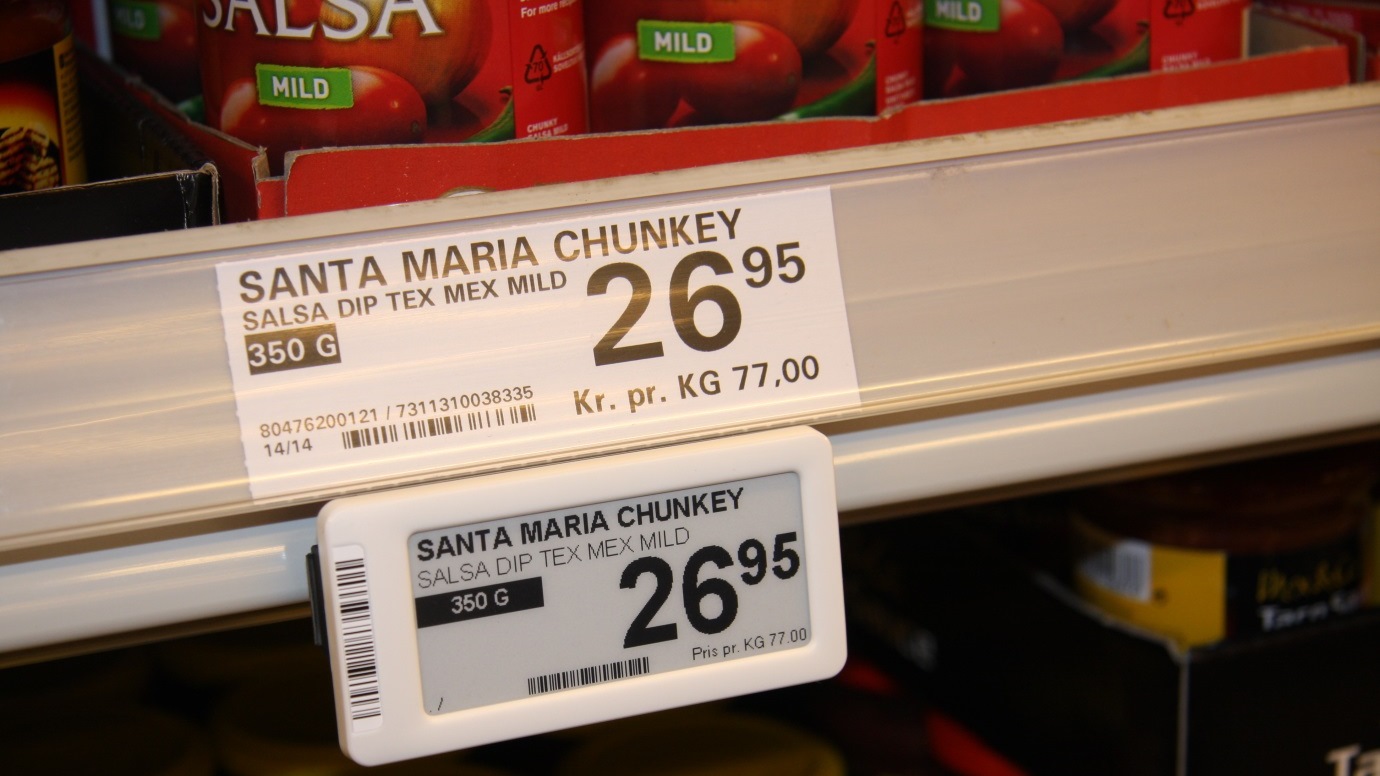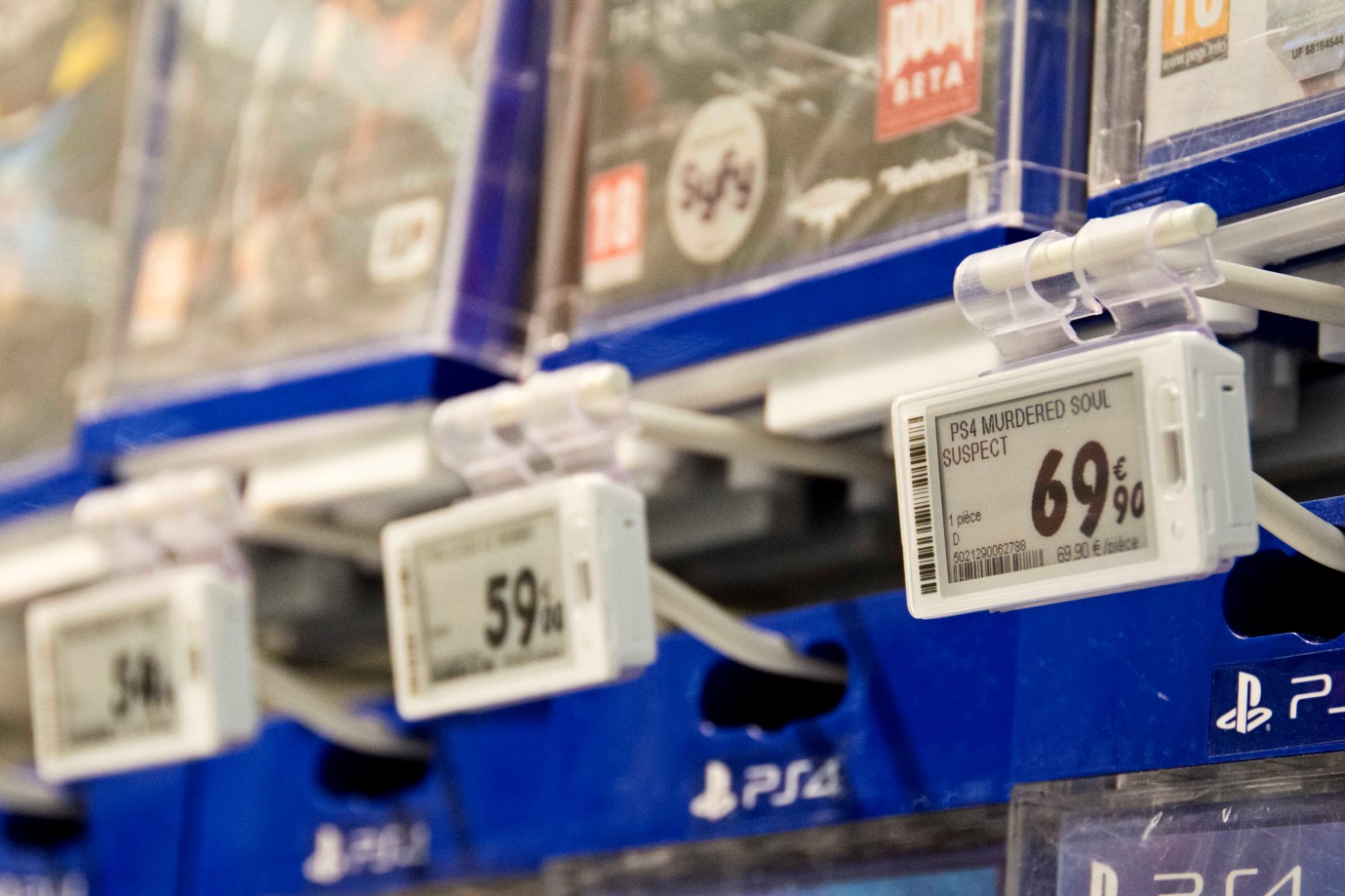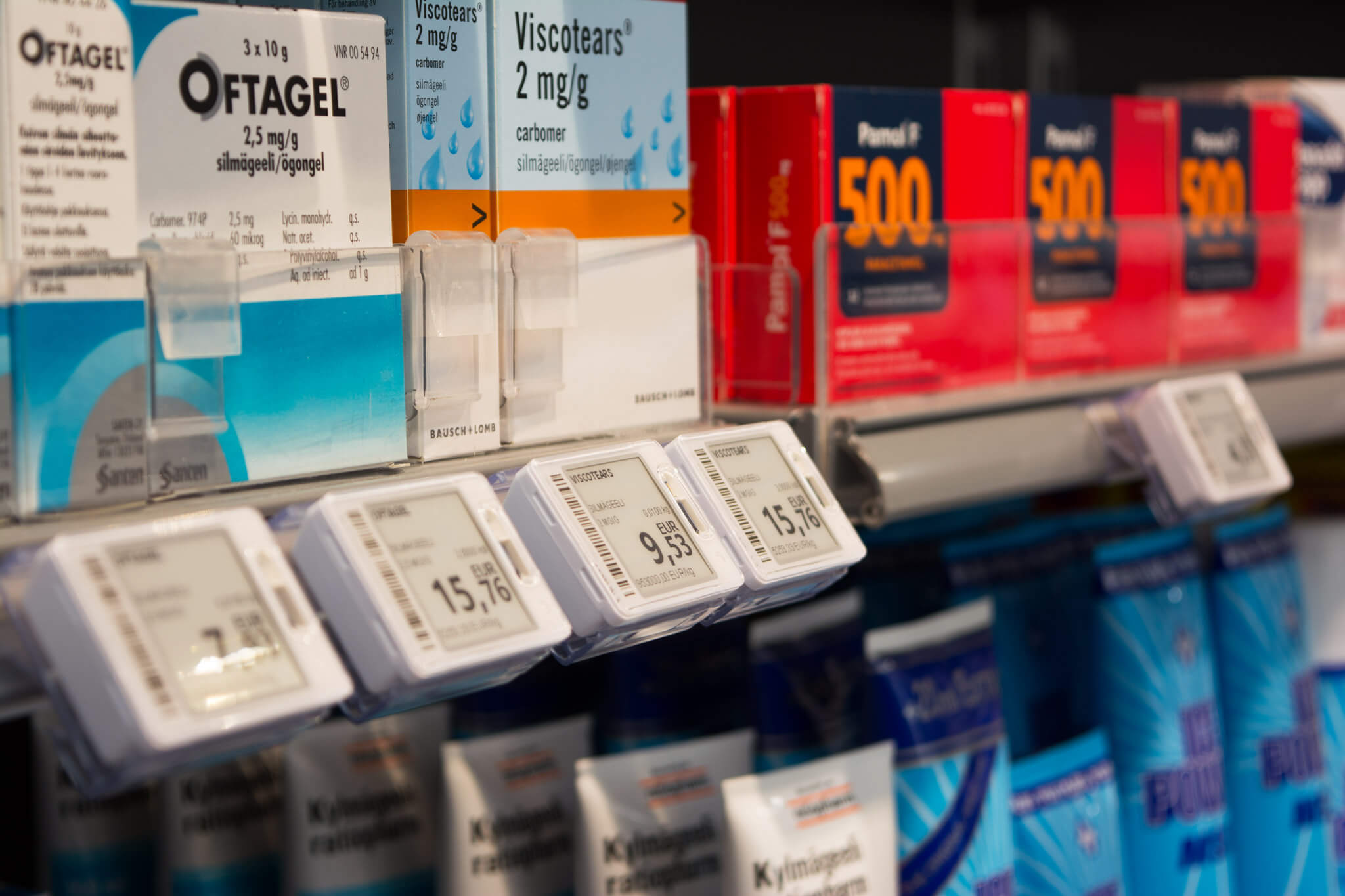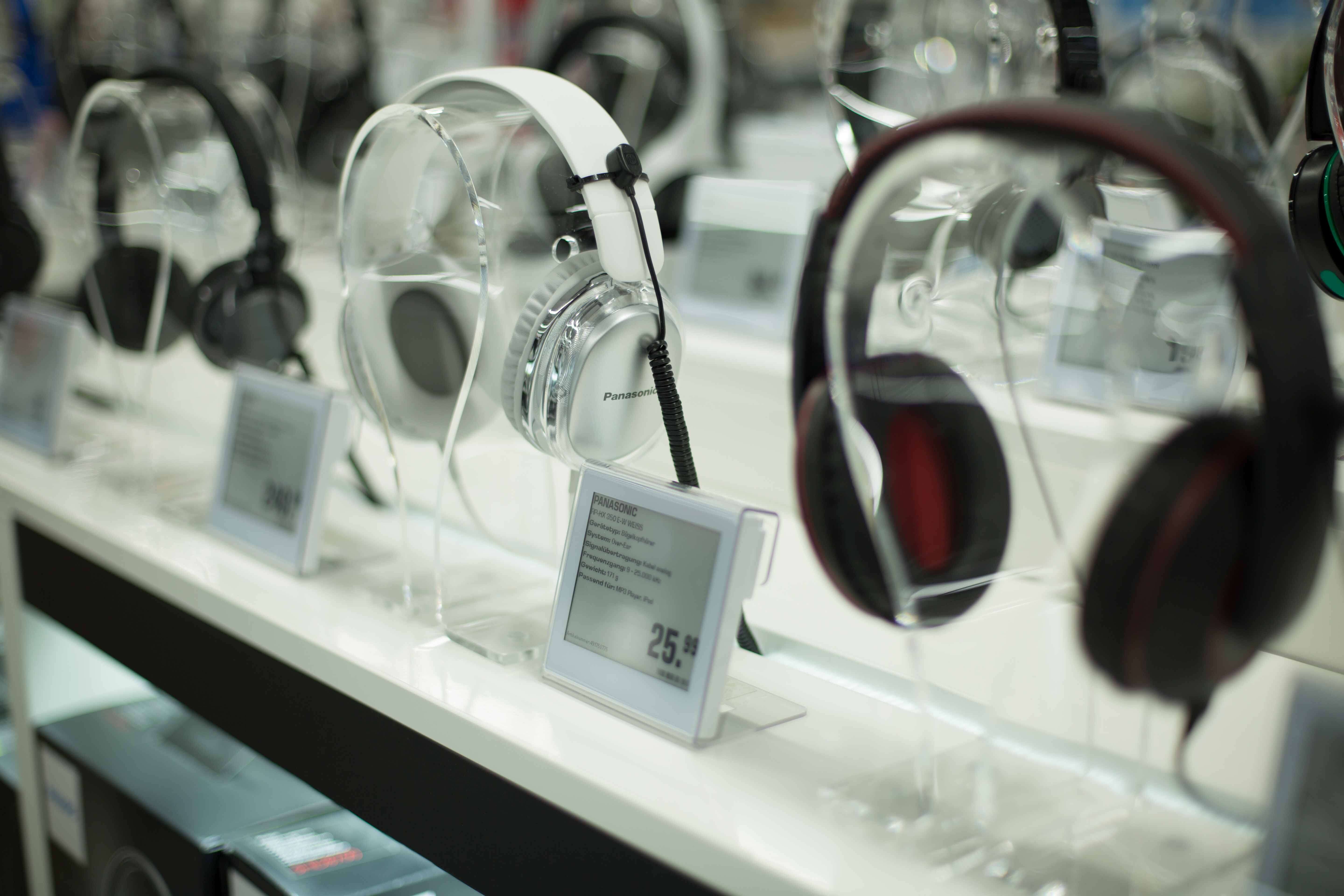 E Ink's Aurora FPL allows for high resolution displays enabling not just price changing but the capability to send additional information to the shelf edge such as images, customer reviews, inventory levels, and competitors pricing.
3- and 4-Color Graphic ESL Tags and Retail Signage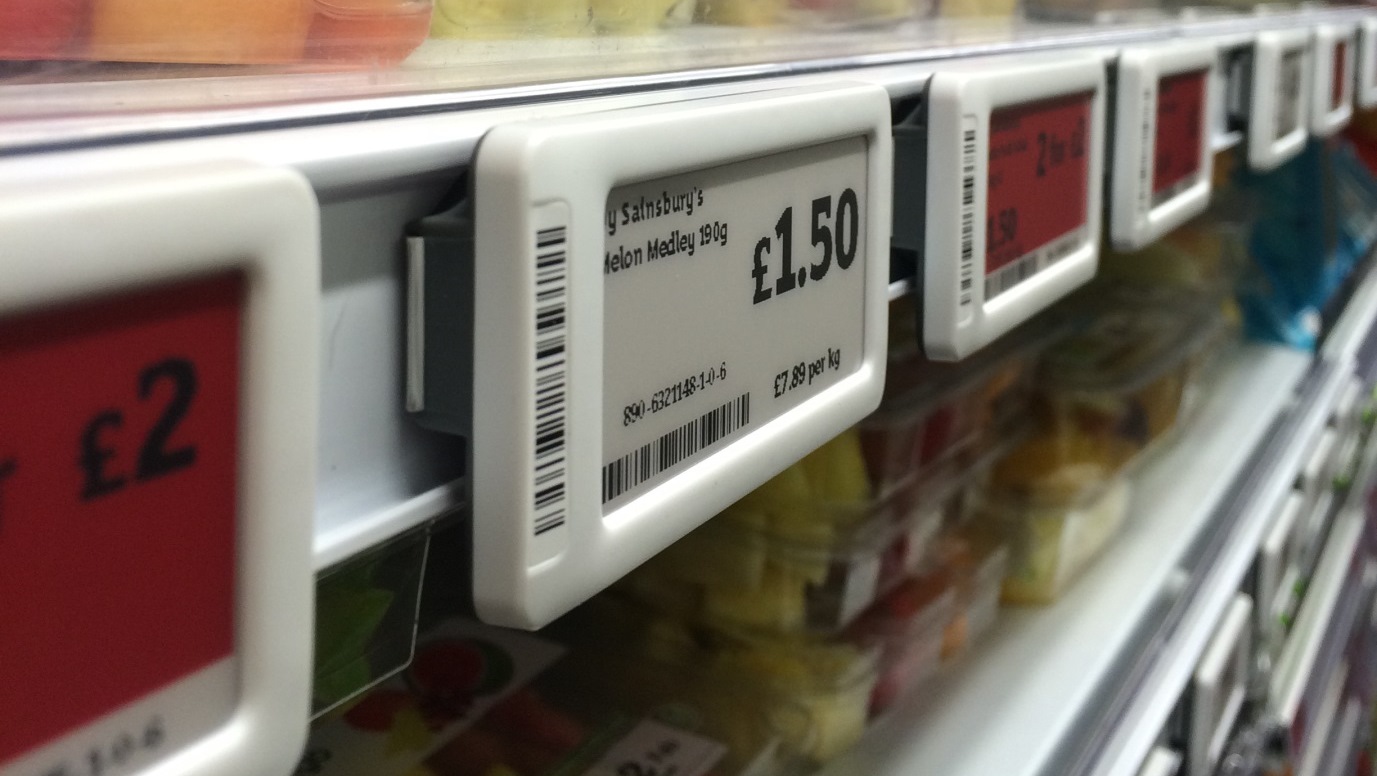 3 color - E Ink Spectra 3000 Red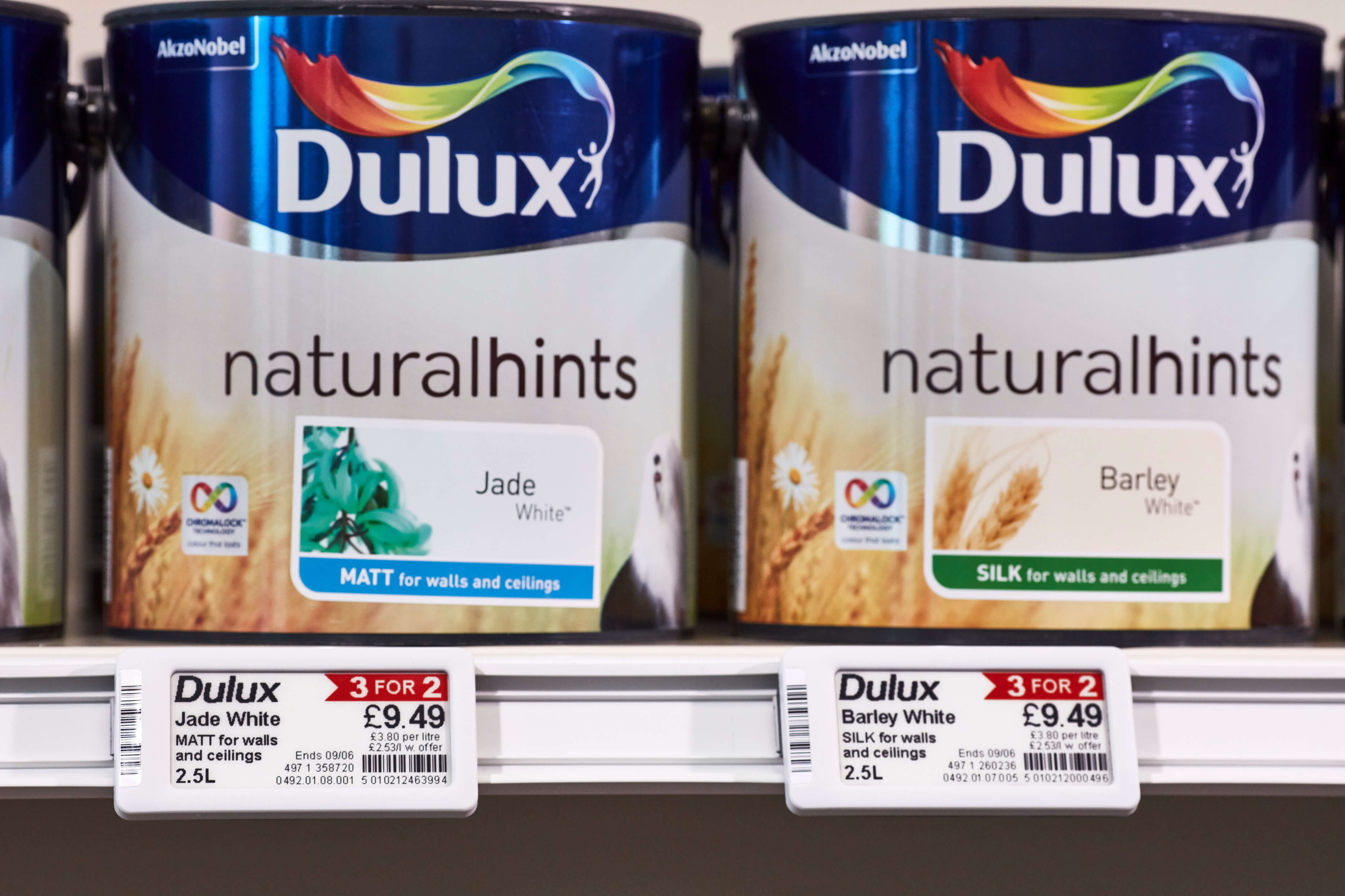 3 color - E Ink Spectra 3000 Red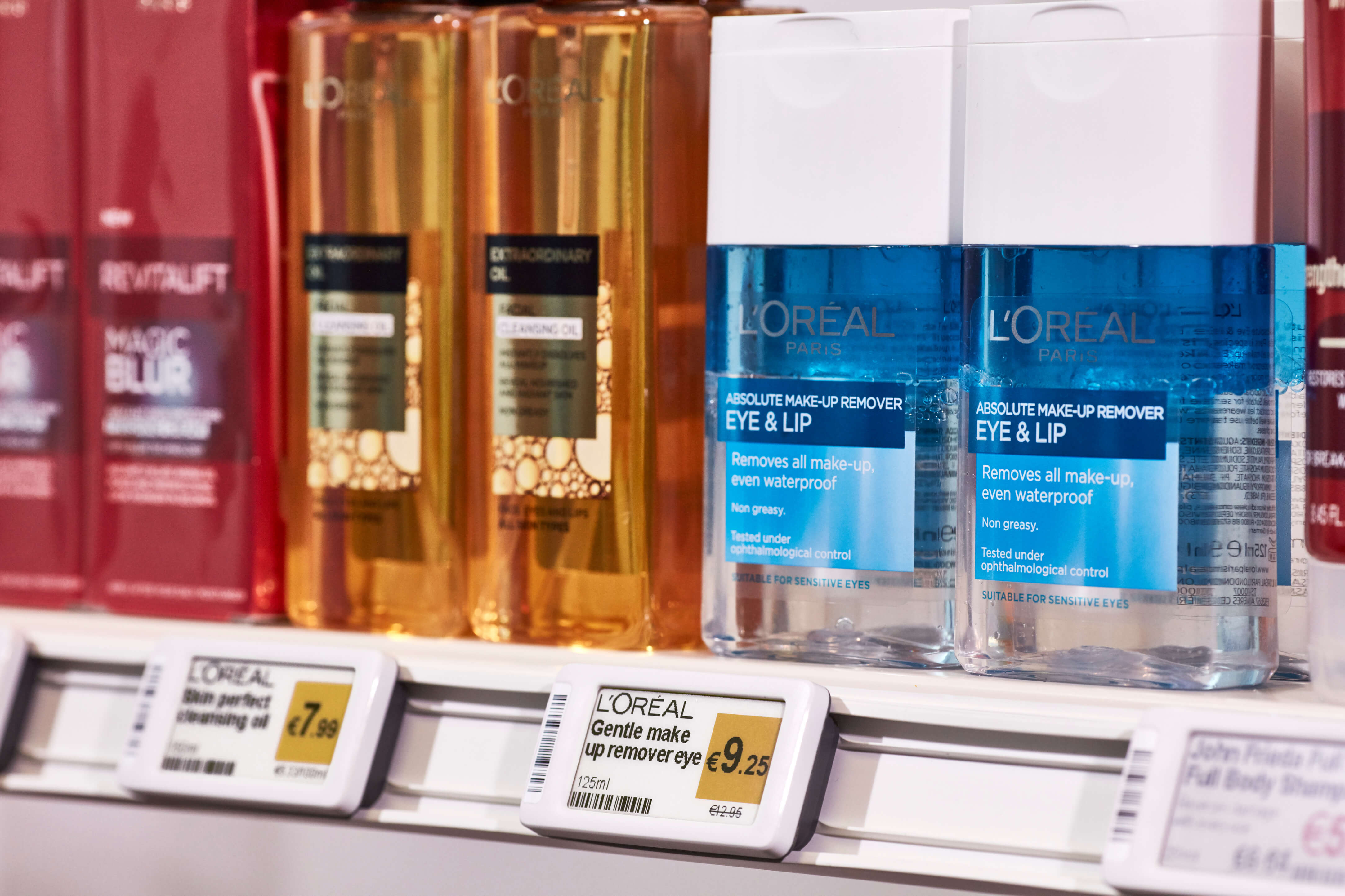 3 color - E Ink Spectra 3000 Yellow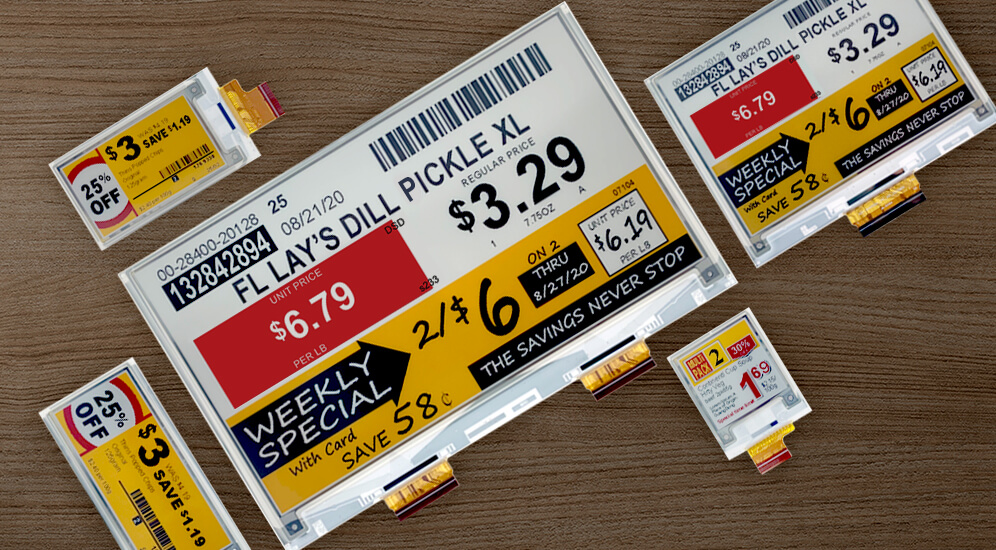 4 color - E Ink Spectra 3100
E Ink's Spectra™ product lines offer retailers the ability to offer black and white tags with yellow or red, or an all in one, black, white, red and yellow to highlight their promotion and sale items. Many Retailers use color as part of their brand image or to highlight promotional pricing. E Ink's Spectra FPL is the perfect solution.
• E Ink Spectra™ 3000: Black/White/Red or Black/White/yellow 3-color
• E Ink Spectra™ 3100: Black, White, Red and Yellow 4-color
In addition, Spectra 3100 has the capability of incorporating sparkling flashing mode when changing images and this offers more flexibility to retailers during promotion campaigns.
Retail Markets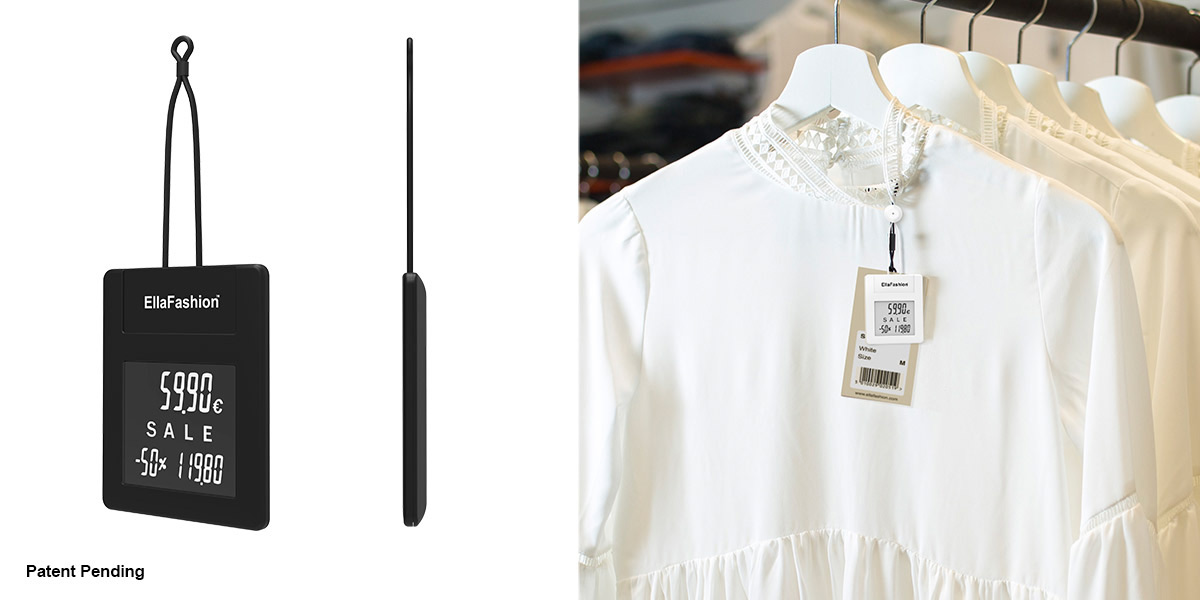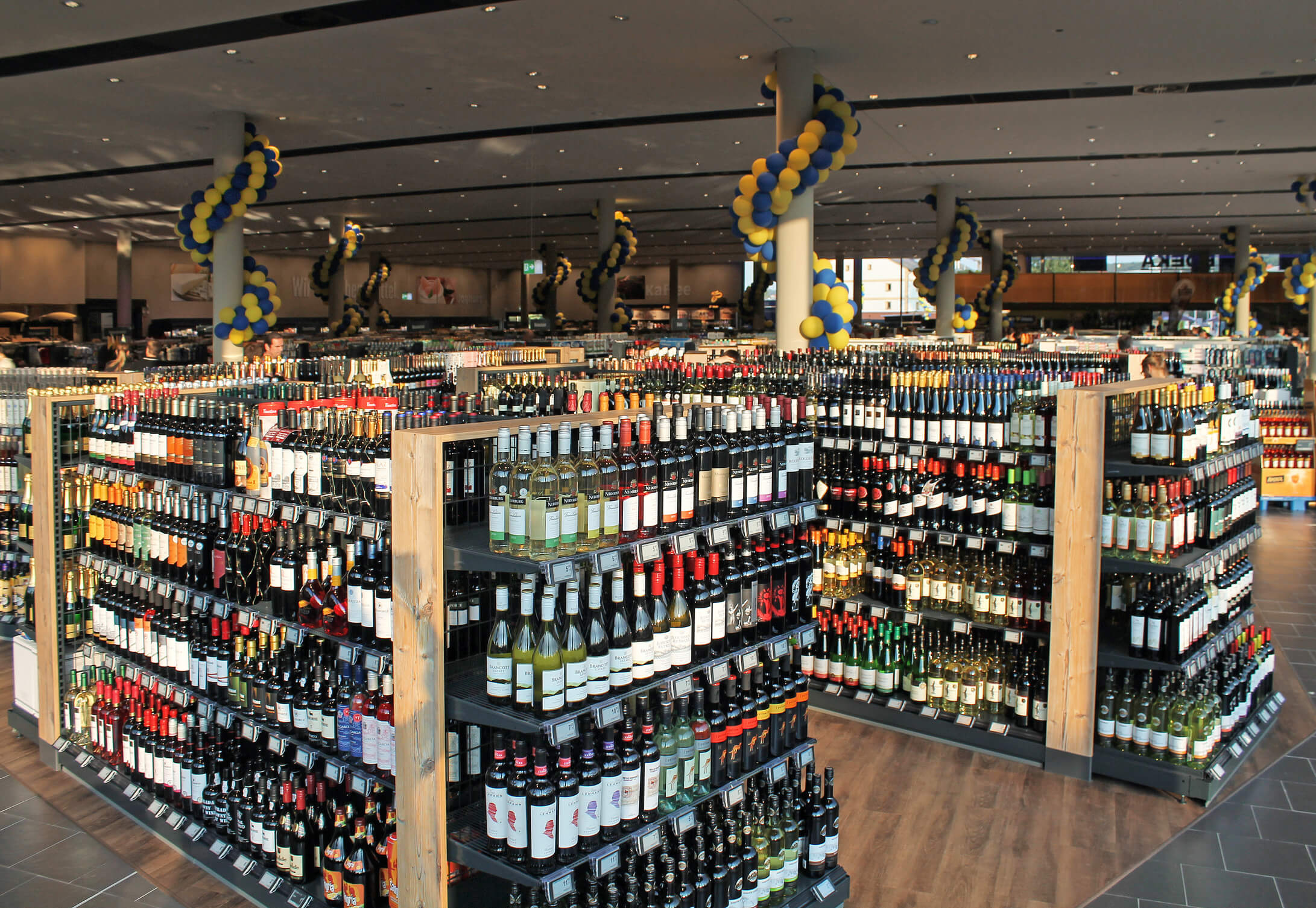 E Ink based ESL & Retail Signage Displays are finding application in all areas of Retail including Grocery, DIY, Electrical Retailers, Pharmacies, Cosmetics, Department Stores and now even Clothing retailers are embracing the possibilities.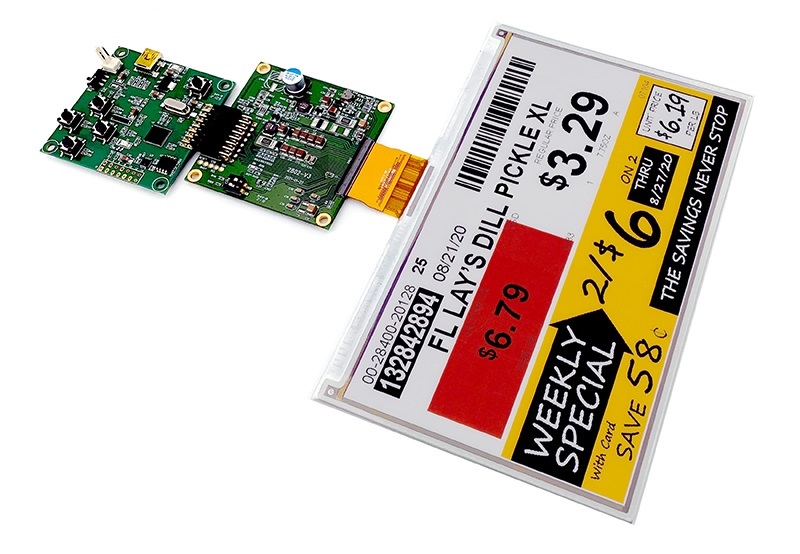 Developer Center and Kits
E Ink offers several Active Matrix and Segmented Display demonstration and prototyping kits to assist product managers, designers and engineers in the development of new ESL products.
I Have an Idea - Now How Do I Start My Project?
If you are a retailer, you need an ESL total solution, you may contact our customers.
If you are a system integrator, you want to develop a business solution to reach market, please click the "Contact Us" button on the left side, we will discuss with you soon!