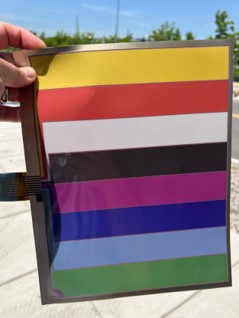 E Ink Prism 3 is a design material that enables personal expression and freedom of design freedom onto everyday surfaces. It is the next generation Prism film, which bridges the gap between traditional static materials and digital technology with dynamically changing materials. Fully programmable, designers can now integrate endless materials with changeable colors and patterns.

Prism 3 brings the magic of color-change to a wide-variety of applications, including white goods (appliances), architecture and wearables.
E Ink Prism 3 offers product designers to choose from eight (8) colors and combine them with patterns to create rich, dynamic surfaces. These 8 colors will have been waveform tuned against a temperature range of 0-50 C. Cyan, Magenta, White, Black, Yellow, Red, Green and Blue.
Additional benefits include:
Low energy consumption – E Ink's renowned bistability means that power is only consumed when displays are updated; no power is consumed once the color is displayed
Priority on personalization – Designers have the option of combining intricate patterns and colors onto the surface to further enhance their products
Thin and durable – Rugged design provides a thin and light solution for surface displays
Prism is rugged and flexible which enables manufacturers and fabricators to cut, shape and integrate with a wide variety of substrates. Its low power consumption reduces or eliminates the need for electrical outlets and enables alternative options such as batteries and renewable energy sources.